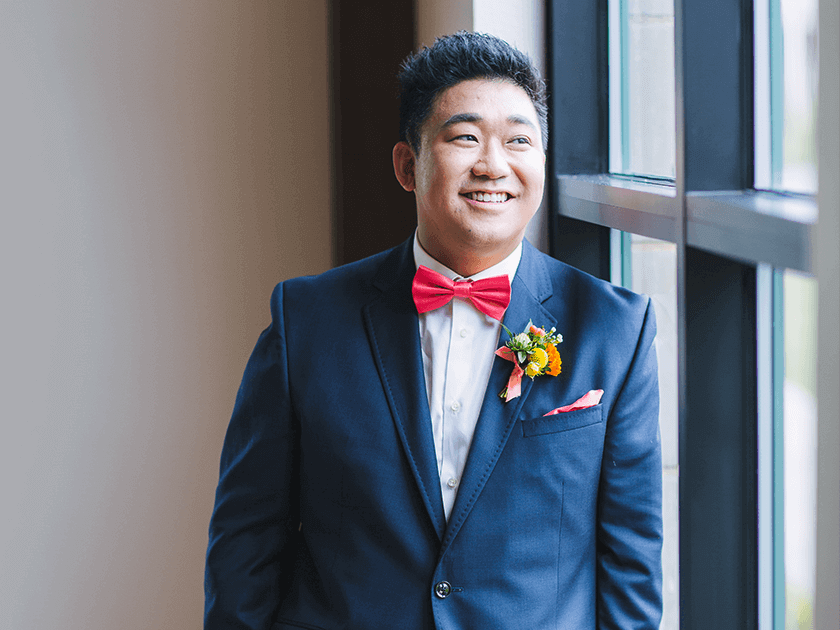 As one of our general dentists and co-owner of Luminous Dental Studio, Dr. Minho Chang provides his patients with preventive, cosmetic, restorative, and emergency dentistry in Frisco, TX. Dr. Chang moved to Texas in the spring of 2014 and practiced general dentistry in the DFW Metroplex area. He is very proud to offer a variety of dental services, such as cosmetic dentistry, dental implants, periodontal treatments, orthodontics, oral surgery, and much more.
Dr. Chang is passionate about learning new techniques and advancing technologies to provide his patients with the very best dental care. His goals as a dentist are to give his patients a reason to smile more with confidence. He also wants to provide proper dental education to his patients and his community. He is a member of the American Dental Association (ADA), the Texas Dental Association (TDA), and the North Texas Dental Society.
Dr. Chang graduated from middle and high school in Broomall, PA. He then went to Pennsylvania State University to study Biotechnology (major) and Microbiology (minor). After obtaining his Bachelor of Science degree, he worked at Janssen Biotech, formerly known as Centocor, as an assistant scientist before attending dental school. Dr. Chang earned his doctor of medicine in dentistry degree from the Kornberg School of Dentistry at Temple University, where he met Dr. Nam Kim (general dentist and co-owner of Luminous Dental Studio).
Dr. Chang was born in South Korea, but his parents moved their family to the United States when he was 12 years old. Today, he lives in Carrollton, TX with his wife, Yulahn, and son, Liam. They also have a beloved miniature Australian Shepherd named Konan. Dr. Chang has a passion for cars and electronics, which he can talk about all day long. Even though he is very passionate about dentistry, one day, Dr. Chang would like to rebuild a classic car to fulfill a lifelong dream.
Reviews
"What a great experience! A clean&modern style dental studio and amazing staff! Dr.Kim and Dr.Chang are very professional, and they know how to treat their patients! ????????"
J.J.
Google
"Love this place! We just moved my dad to the area due to health issues. He hasn't seen a dentist in more than 8 years. Dr. Chang was very thorough in his exam and with dealing with my dad. He explained everything and helped us set up a treatment plan. My dad was worried that it would take "too many visits" but felt that the plan was appropriate."
A.W.
Yelp
"I have dental anxiety when visiting to the dental office anywhere. Dr. Chang and Jill really understand my situation. I have planned not to visit anymore to any dental offices because they don't understand me. I finally found Luminous Dental Studio for their caring and understanding for who am I."
A.D.
Google
"Luminous Dental is a very nice, modern, clean, and comfortable studio. The staff is professional easy-going and friendly. Dr. Minho Chang, DMD was very calm, punctual and gentle. The staff go out of their way to provide helpful tips and advise on how to maintain healthy teeth. Above all, this place is well equipped with the latest tech systems and dental equipments. Not to forget, the flat screen TV's hanging from the ceilings really adds to the luxury comfort that luminous Dental studio provides it's guest. Imagine yourself being at a dentist appointment feeling like you are on your way to Miami, laying down on a first class seat on a SouthWest airplane..."
E.D.
Google
"Dr. Minho Chang is an excellent Dentist. He is very kind, thorough, and professional at his work. I had a wisdom tooth extracted effortlessly. I am simply in love!!!! Tammi the front desk staff was extremely wonderful and knowledgeable too (mirroring the doctor) - what a great team. They are also very COVID-sensitive and their Studio is meticulous (we love that). I recommend Dr. Minho Chang to anyone needing dental work."
C.S.
Google
Related Posts